This thread might exists, but I had no luck with the search...
Whether you're stuck on the same project that's been crushing your soul for a year, or you're about to start something new and fun,
what is on your work bench RIGHT NOW?
I have 3 builds that I NEED to complete... My guitar building is becoming like my song writing; I lose interest half way in and find a million distractions to prevent me from spending time on them...
I would go snap a pic, but my phone is dead, so I'll just borrow the pics from their threads...
I started this a few months back; walnut JM for a friend. He never bought the parts that will go in it, so I'm sort of waiting to hear from him. I know he's a broke ass (records bands for a living) so I'm not trying to pressure him... I keep telling him to get budget stuff now and upgrade later! (shown with a Jag neck because it's all I had laying around)
I started this Jag shortly after the walnut guitar, but since starting it, I learned that I don't like the tiny frets or smaller radius, so I decided to build the neck from scratch too. While putting it off for so long, I ended up selling or using many of the guitar's parts. Now I need a new trem. And tuners...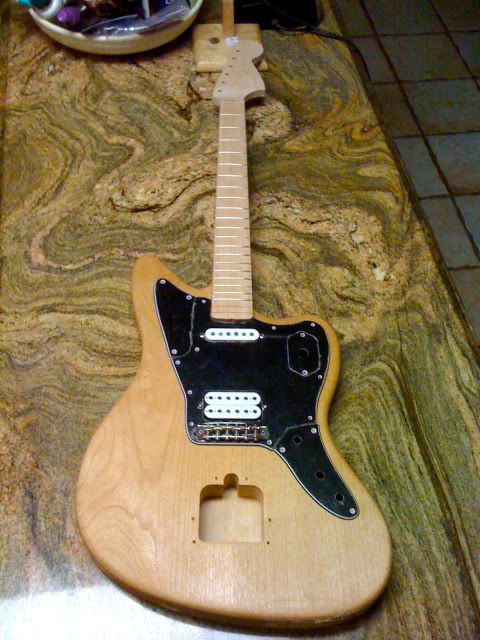 And I have a
Duo Sonic II meets Telecaster Deluxe
hybrid, the "DU0 50N1C D3LUX3" that is in need of some work on the body (hopefully getting it done tomorrow)... I can't post a pic right now because Photobucket is testing my patience