A long history of my beloved 1959 Jazzmaster, since I owned it anyway. Skip to the pics if you can't be arsed reading about it.....
So, 25 years ago it came into my hands, painted a dodgy off-black (far from pro-refin standards) with a black pickguard & a '90s Strat neck. The electrics weren't working but everything else seemed original. It cost £150 with a part-exchanged Hondo III Les Paul copy. At some time or other I sanded the paint off, possibly destroying what pencil date there might have been in the cavities. I'm not 100% about this though so may have a dig around with paint stripper & sandpaper. Who knows what I might find.
I took it to a friend who rewired it. To this day I don't know if he yanked out all the original cloth wiring (I'd rather not know) but I remember him saying he'd replaced all the "old dusty stuff" with new "normal" wiring. Gulp! Still, it worked & I got reasonable play time out of it, purely in my bedroom though, playing through a weird PYE-branded amp with 3 knobs - Tone, Volume & Tremolo. A friend of my mum's lent it to her kid when I was away at college & I never saw it again.
So, moving on a few more years. I moved to London & spent time staring in guitar shop windows on Denmark Street. I got chatting with a guy who worked in one of the shops (Phillipe, who made the Jazz Bass-meets-Jaguar guitar mentioned on another thread somewhere) who put me onto his mate, Joe, who did pro-refins. Really good ones too. He agreed to take on the job of respraying it with vintage correct nitrocellulose paints, charging me £150. He showed me pictures in a guitar book of a late '59, early '60 Jazzmaster that he wanted to use as reference & I gave him the go ahead.
In retrospect, I'd have asked him to do one with less black - even though it's accurate to an original Jazzmaster - & fade the red a bit but I knew nothing about vintage Jazzmasters back then. One day I might get it done differently.
In the meantime we went about getting the rest of the body up to scratch. First off, he threw away all the shiny, horrible pickguard screws I'd bought from a DIY shop when I first got it. Did I really throw away the original screws!!? Gulp! I really can't remember. He gave me a full set he had in his parts box. Good man!
Next he suggested some eBay listings for me to watch. Firstly, any kind of "pre-CBS" tortoiseshell guard. As luck would have it an 11-holer + shielding showed up for around £80. I pulled the trigger & had it attached to the newly resprayed body in no time. It had a small repair - basically an extra hole was plugged up with some scrap tort (yeah, they somehow had spare stuff lying around back then!) - which was virtually invisible. Also, the shielding was from an early '60s Jazzmaster as the holes around the rollers were rounded, not rectangular. Bizarrely enough, a few weeks later another 11-holer showed up in better condition. I bought it (for around the same money I think) and sold the other one to forumite, Michael (Fuzzking) who still has it! I also got a great deal on the vintage correct '59 aluminium shielding. I sold the '80s black guard to someone on the forum for around £15.
After this came the big one. The neck!! I sold the Strat neck for £100 (it had Grover tuners on it that sold separately for £10 or so). I don't know if the buyer got a good deal or not. It was smoke & heat damaged at the headstock when the guitar shop it was stood in (Northern Guitar Centre) burned to the ground. Luckily it was fished out in time & sold to a shop called Don Audio in Leeds. The day I bought it from there my good friend, Simon, also bought a mint condition Competition Orange Mustang for £300!
Me & Joe kept our eyes open for a 1959 or 1960 Jazzmaster neck. I remember being astonished at the price but he assured me it'd be a worthy investment. A neck
and refinned body
came up, badly listed & sold as-is with no electronics or guard. I remember to this day, leaving the Intrepid Fox pub, phone in hand, getting ready to bid at the last minute. Bad luck struck, the signal dropped & I missed my chance. They sold, if I remember correctly, for £700!! Gaaaaaah!!!
Fortunately, another one came up in the US, a 1959 neck with no pencil date on the heel. This was when the UK pound was particularly strong so my money went a long way. I bought it for £850 shipped. It had no tuners so next up was a quick BIN on eBay (Hoboken Guitars, I believe). They sent me a set of single-line Klusons, one of which was broken, and 6 ferrules (all of which, it turns out, were for '50s Gibson guitars!) They agreed to send me a replacement tuner & let me keep the ferrules. Fortunately, the Jazzmaster neck I bought had them already.
With the main piece of the jigsaw sorted I had a fully working, virtually fully restored guitar. Only a few extras remained. Eagle-eyed forumite, Doug (Fullerplast) noticed that one of the screws holding my rhythm switch was too big. He sent me the correct screw free of charge out of the goodness of his heart. It's a shame he doesn't post here any more. That guy was a true gent & a cornerstone of the forum.
I also bought a repro amber switch tip that may or may not have been on the original guitar but I loved the look on other stock '59s. Around the same time I got a repro collet for the tremolo. The arm I had when I bought it was loose with the guitar &, as it turned out, an '80s one. It's crazy to think how long I had the guitar without a working tremolo. To this day I don't think you can beat the action of a Fender floating tremolo system.
Lastly, I bought some telecaster knobs. They weren't original, nor did they ever appear on '59 Jazzmasters but I really liked the look & feel of them. I learned how to age the chrome using vinegar fumes so they had a matching patina too. This was taken just before I aged them....
That's pretty much how the guitar stayed for ages. After I'd built a 6G15 Reverb tank clone I had a load of cloth wire left over so I contacted another forumite, Ben (Theworkoffire) who re-wired the guitar to vintage specs & gave it a full set up. He even took apart the ageing Switchcraft toggle, straightening it up & put it back together so it worked solidly & properly. He's another legend of the forum that doesn't post that often. The man's a wizard when it comes to guitar building.
Anyway, when I fancied a change I bought a "Scottish" Anodised gold guard from a forumite, switched my stock white pickup covers & tremolo tip for black ones & bought some more suitable knobs. It now resembled an inaccurate Partsmaster more than ever but I dug it & it stayed like this for quite some time....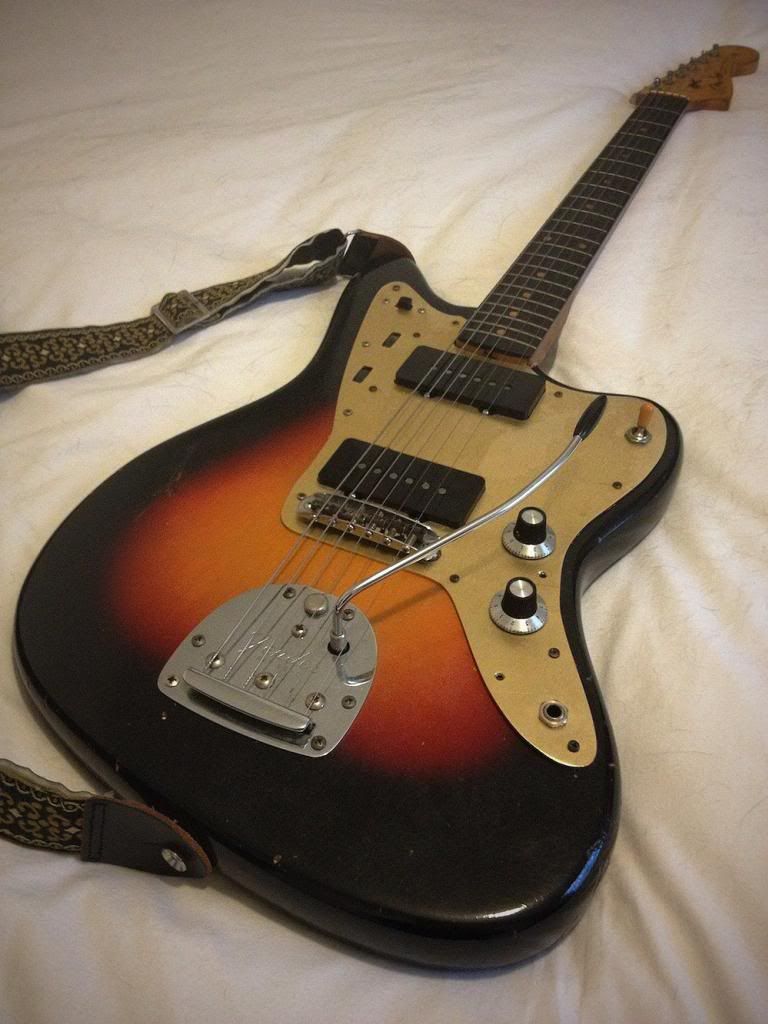 But, in the end, I missed my tort guard. I think watching Spitfire's business blossom helped a lot. I took it off the wooden board it had been screwed onto & re-attached it (which still took some doing!!) My original idea of putting the white covers back on flopped when I realised I'd lost them. As luck would have it they turned up a few weeks later in the most obvious place that I neglected to check - my Jazzmaster case (which, incidentally, was a repro blonde case with dark red lining).
Then, after some 25 years, I decided to replace the final part.
The knobs
. I definitely have the originals, somewhere in my mum's place, but have never been able to find them. So, last week I bought a set of repro Strat knobs for £4 and aged them a little with a Scotchbrite pad & some brown shoe polish. I had to drill the holes out as I'd got a set that fit on grooved, split-shaft posts.
Finally it's looking like the stock guitar I'd hoped for......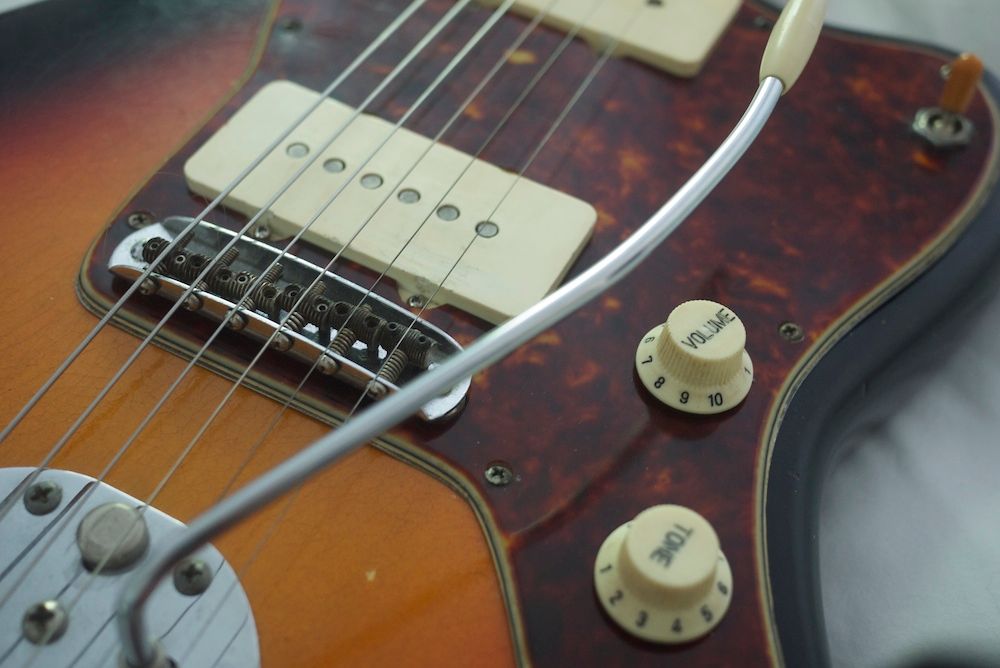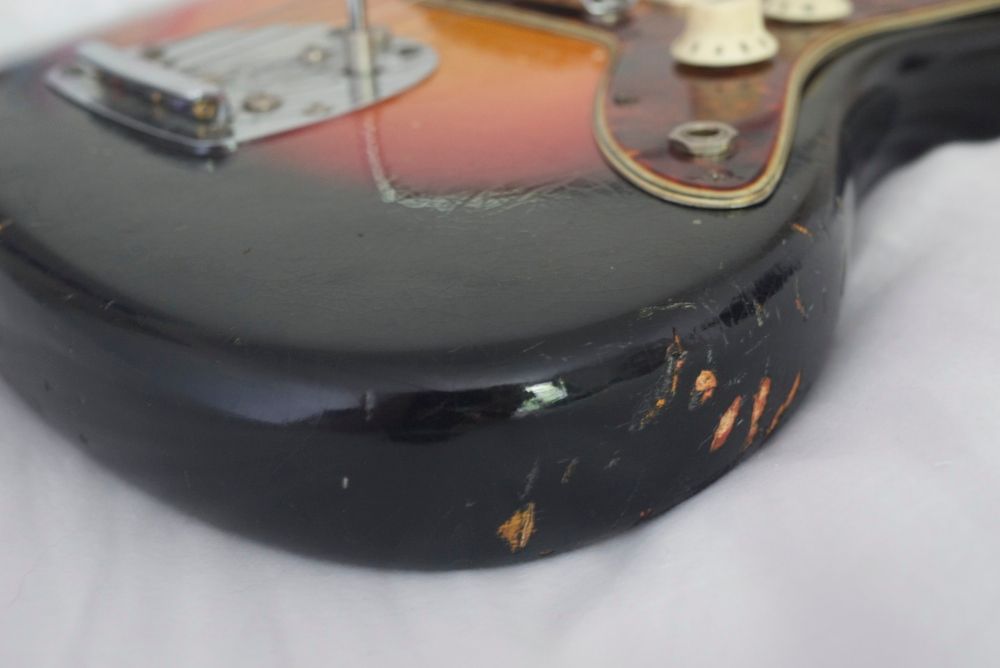 It has quite a few war wounds these days. Also, not long ago I cleaned the neck, possibly the first clean it had in decades. Some of the clay dots were almost the same colour as the rosewood. A little naphtha, a blade & a soft cloth got all that dead skin off (or mojo, depending how you look at it) & now they look great!