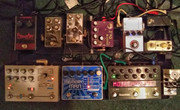 Well here we go! Ms50g and I removed five pedals for it: tuner, dimension, smallstone, freqout, subnup (well this last is more because band has bassist now). One-song pedals.
Drives a work in progress. Eyemaster is cool for £25. AMT VXCLN rather awesome and want to try in fx loop, sounds enough like having a dirty ac30 on an a/b switch.
Thinking of Dunes and Apocalypse. Probably dunes for the hustle drive/rat clone (3rd left top). Latter for the eyemaster of course, keeping my fuzzface-in-synth-hell pedal 'void'. Been looking at the teisco delay now for dr j shadow echo upgrade.