well yes this is a rare mixed feeling NGD.
so this über cool beater '74 Tele Custom came up for sale locally (about 1.5hours away) and i panic sold a bunch of shit to buy it... cheap, i'd say. or, i though.
but i've been looking for one of these for the last 20 years or so (mentioned it here about a million times in every custom thread...). this is the one, i thought.
i saw that it was quite beat (which i like) and white (which makes it kinda rarity).
so the guy (metal band manager) sez he'd bring it to me in puebla and i met him on the way to picking up my daughter yesterday.
i felt it was kinda light, but early 70s at fender, you know the standard was that there was no standard. and it's also no feather weight.
so guy tells me it was his uncles, and stashed away at his farm for years.
i take it home to setup and try out, etc. and i realize this fine kinda sand all over me but don't really care.
guitar sounds great, works pretty much ok, needs a nut and stuff but ok ok. great deal. btw, it's not white, it's BLONDE ash. kewl.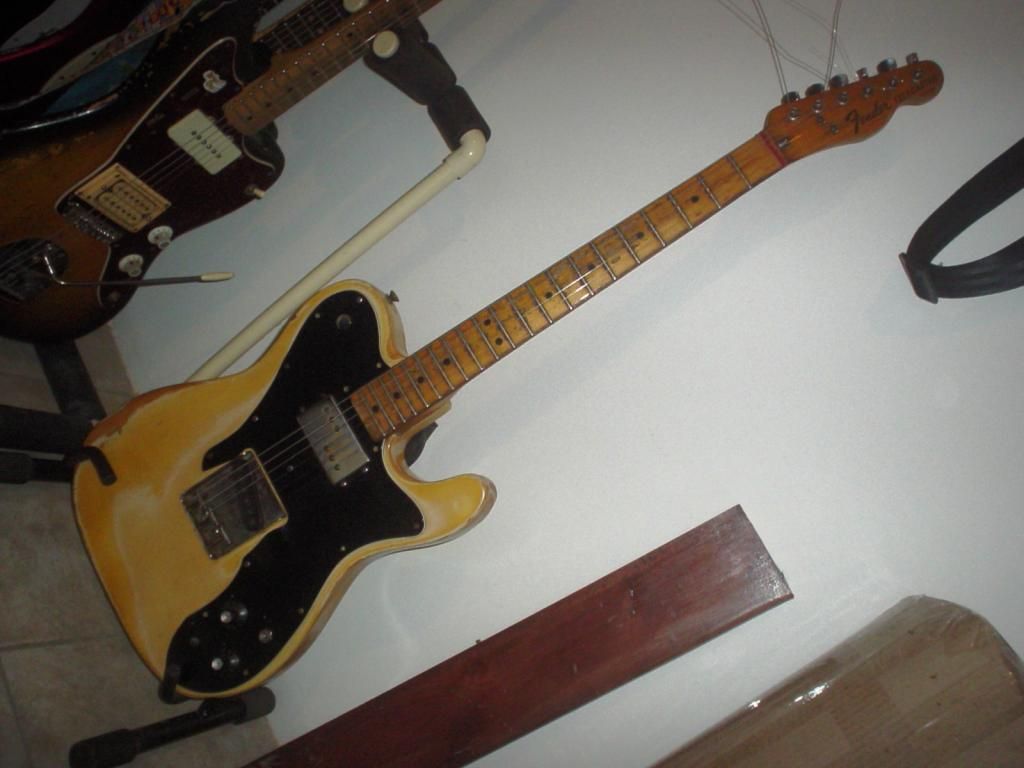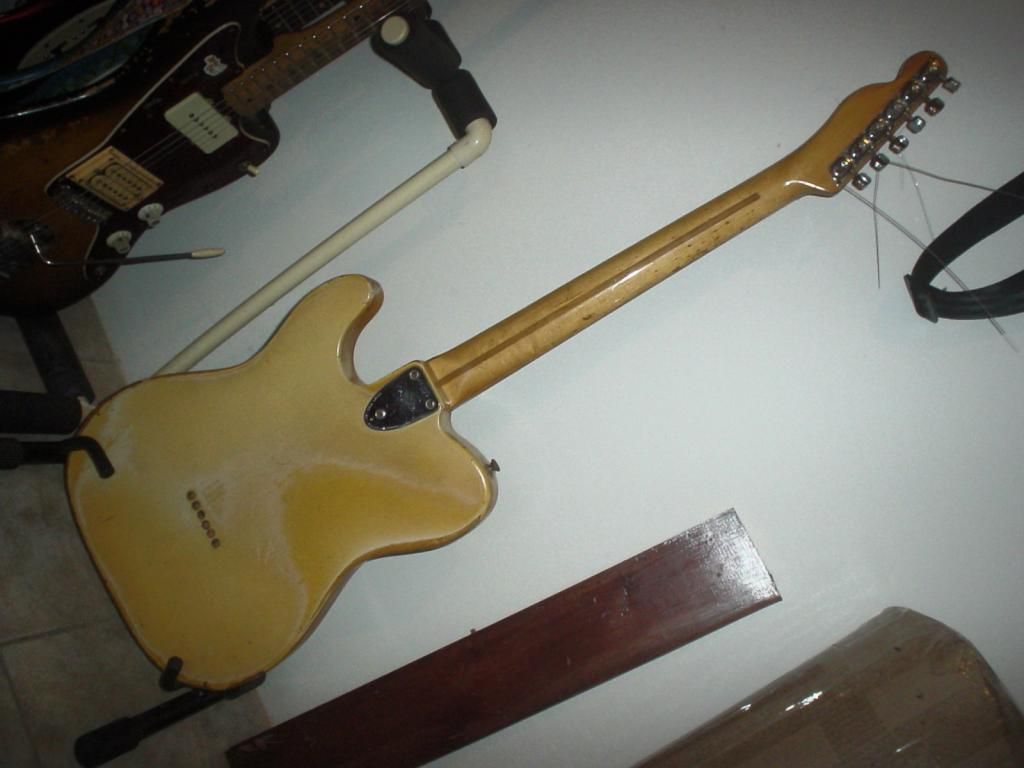 but then i get worried about all that sandy shit everywhere. then i notice the wood worm holes.
they're pretty much everywhere, but mostly on the bottom. there's some real holes where i think it's only a thin layer of "solid" wood and paint but it's hollow under it!
SHIT!
i don't really know how extensive the damage is, or how recent. if the wood eating is going on or if it's ancient.
checking out the neck pocket i almost freaked out. it's all eaten up... but for some reason still solid.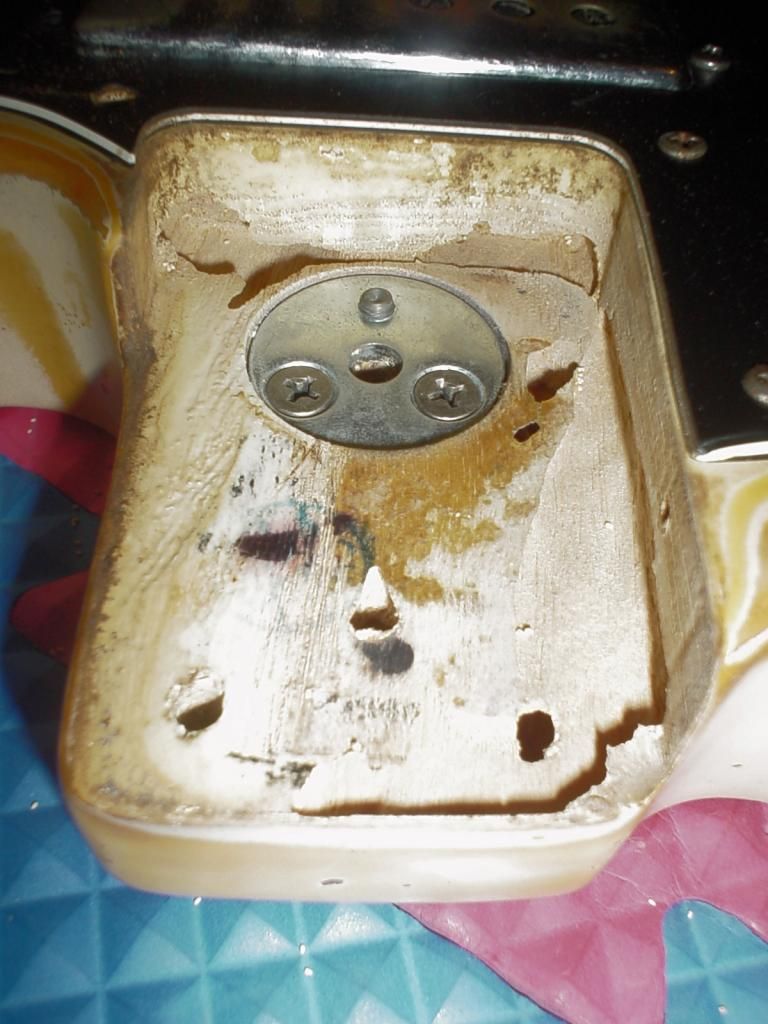 and with the tilt thingy removed...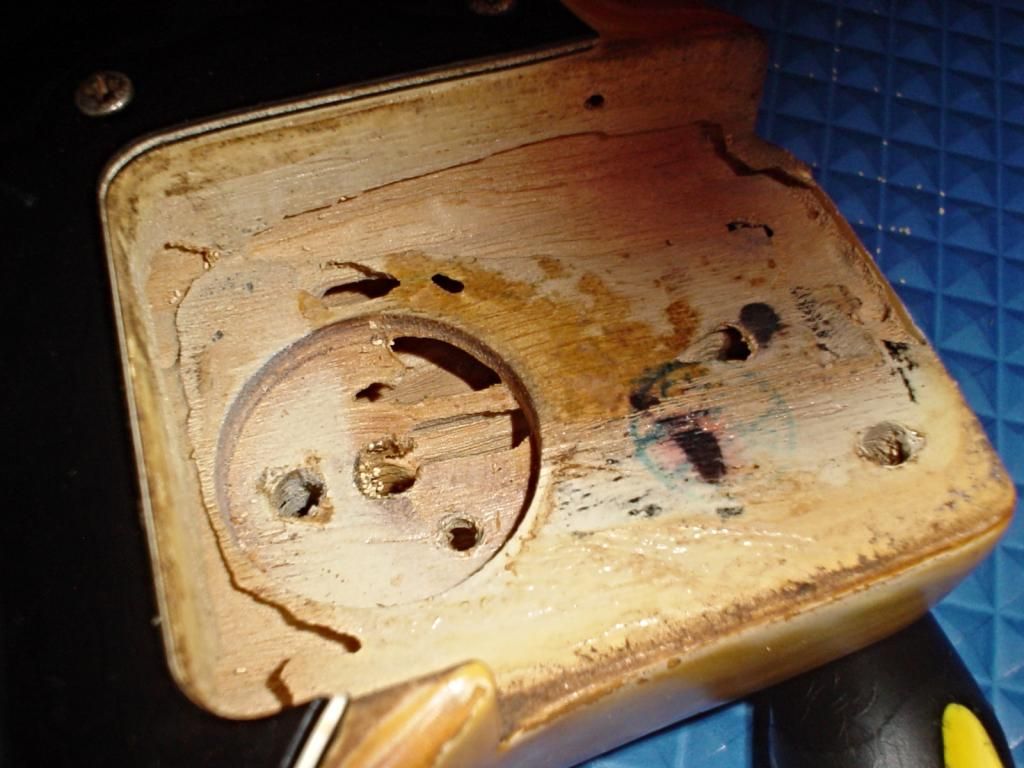 i'm worried. i mean, this was supposed to be a rocker, but it might fall down once and fall apart?!

i planned this one as a keeper anyway, and i will play it to death, but i don't want it to just disintergrate!!!
should i take it to x-ray? or what can i do to know what's really going on in there?!
dunno how to explain it all. it looks and sounds and plays great, but when i move the body, you can actually HEAR the "sand" moving in there. and every once in a while it kinda pours out of a hole.
how can i know if this is from the past or if these things are still munching on the wood?
can i somehow fill this up? epoxy? wood filler? liquid rubber?
HELP!?