There are a lot of approaches to attaching a "bolt-on" neck to a guitar or bass body, and the traditional method involves using #8 wood screws.
While that method isn't bad, I have found it to be somewhat lacking as the neck mounting holes can become stripped over time.
When I went looking for a better solution I found a number of different approaches to solving the problem, most of which involved various types of EZ-LOK inserts for wood or metal.

After reviewing the merits each, I decided to go with Chet Johnson's system because it blends a variety of simple tools, supplies and materials into an elegantly simple solution that most players and builders can perfect easily on the first try with just a little skill and patience.
I also added one little "twist" to Chet's approach because my bodies have sculpted heels and each bolt will vary from the next as far as how deeply it penetrates into the neck.
Here are the supplies I use, including the instructions as provided by Chet in his kits:
- 5/16-18 Tap (kit)
- 8-32 socket head bolt (kit)
- 9/64" Allen wrench (kit)
- 8-32 oval-head stainless steel bolts, 1.25" and 1.5" (kit)
- EZ Lock 329-008 inserts, 4 (kit)
- 1/8" twist drill (mine)
- 1/4" Forstner bit (mine)
- Harbor Freight Tap Handle (mine)
- Wood handled awl for marking the neck bolt holes (mine)
The kit Chet offers comes as shown (bit and tap optional if needed):
I mark each bolt hole on the back of the neck with the awl while the neck is clamped in place.
Next, I mark the 1/8" bit with blue tape to the maximum depth the neck will safely allow and drill a pilot hole.
This will allow the bolts to extend past the insert and "self-tap" into the neck wood, eliminating any potential "back pressure" a bolt could apply on the insert if it bottoms out within the neck.
This is likely not a concern for a standard neck with a plate and uniform heel, but I use bushing inserts and have sculpted heels on my builds, so the bolt depths are not uniform.
This is my "little twist" on Chet's system.
Next, I use the 1/4" Forstner bit marked with blue tape to allow the insert to sit just below the surface of the neck.
A standard twist drill bit is shown here: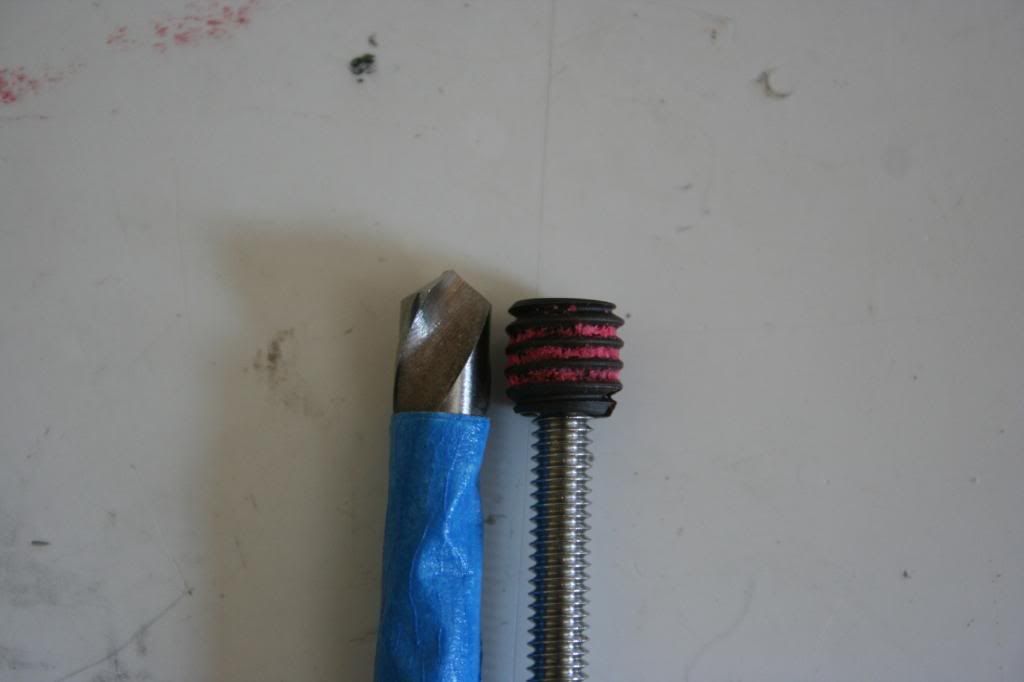 I use a drill press, but a steady-handed person could get away using a hand drill with a twist bit:
Once the 1/4" holes are drilled and the sawdust is blown out, the holes are TAPPED with the 5/16-18 tap.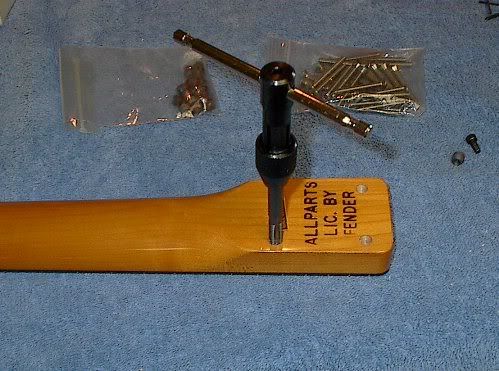 Tapping the hard maple neck and using hardened steel inserts designed for metal vs. brass inserts for wood is unique to Chet's approach.
Everything I've read and experienced firsthand leads me to believe this results in a more consistent and predictable result compared to the "knife-thread" brass inserts designed for softer woods.
Another of Chet's innovations is to use a hex bolt to drive the insert into the tapped hole.
This results in a clean and consistent installation vs. using a flat-head screwdrived as many would be inclined to do.
The installed inserts look like this: