Thank you ForcedFire for your efforts on the headstock. I appreciate it very much. I don't think I have ever seen a straight-on photo of the Futura headstock, and seeing one did get me to thinking.
I think your last statement says something important, however. That it kind of loses the V shape. To me it kind of looks less like a split headstock and more like a big headstock with a V cut in the top.
For some reason, I see the original Futura headstock as a little homely. To me, it just doesn't have much about it that is futuristic. The Robin version seems to be much more updated and graceful, and this is why I'm trying to achieve something like it.
In fact, today I worked on yet another mock-up, but this time I installed the tuners. These are not the exact tuners I plan to use. They are from Guitarfetish and have the green keys. The ones I want to use are the same style but have creme keys.
I installed the tuners at slightly different distances from the outisde of the headstock edge. This made the first and sixth tuners sit-in more and the third and fourth to set-in less from the edge. You can see that this worked quite well on the treble side where there should be enough space for the strings not to foul one another. The bass side, however, will require more work, and I think I know what is needed.
Here's a photo. The shadow makes it look as though the sixth tuner does not clear the headstock, but it does.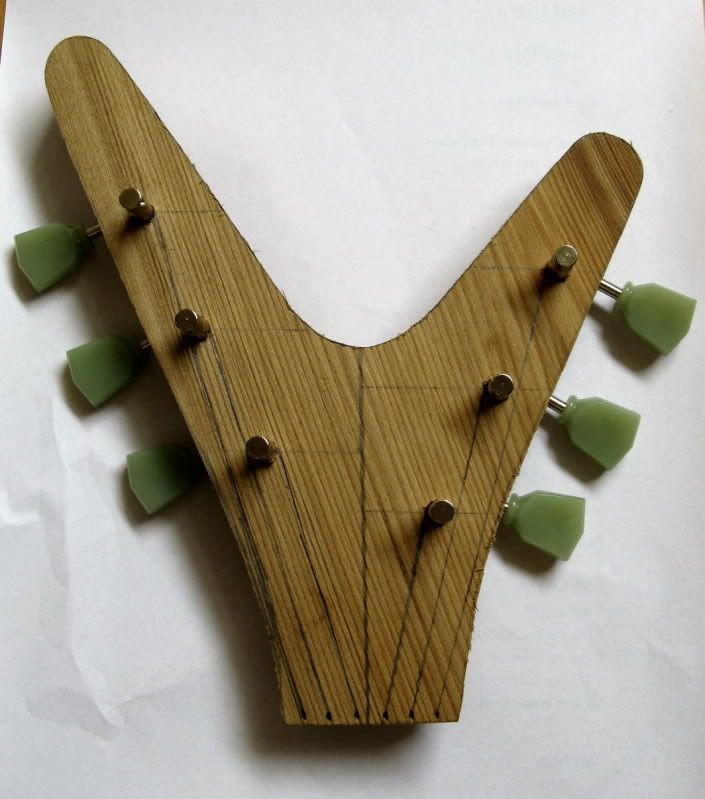 The two forks are not at the same angle from the center line. The treble fork is at a different angle than the bass fork. I think if I make the bass fork the same angle or even a slightly greater angle everything will be good. The reason why the bass fork is at different angle is because I ran out of wood. So if I want to change this, I will need to remove the small piece of wood at the right of the headstock in the photo and add another piece that is longer. It's not too much work.
The piece of wood I would need to remove is on the right side of this photo. I would need to put a longer piece in.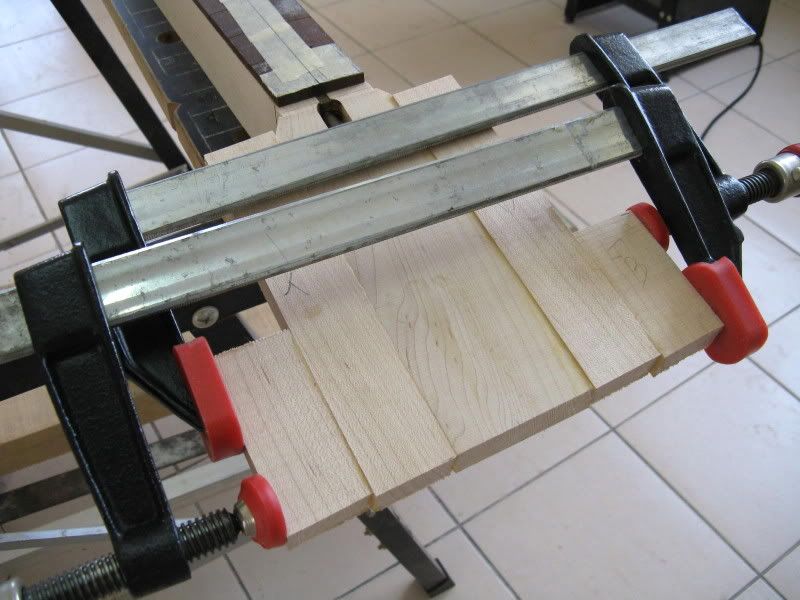 I know I'm spending a lot of time on the headstock, but I know that I may have just one attempt to get this right.