supersonicjazzmaster

wrote:

↑

Sun May 19, 2019 4:35 am

I compared the thickness of the two bodies of my sonic blue 1997 and the 2002 fiesta red Jagstang.

The 1997 body is a bit thinner.
Thanks a lot for providing your measurements, supersonicjazzmaster.
It seems to me that even the body thickness is giving me troubles.
Courtesy of fellow member HNB (Thanks again, Chris... you're awesome!) who sent me several pics of his fiesta red js with a ruler in the cavities and this one next to the body: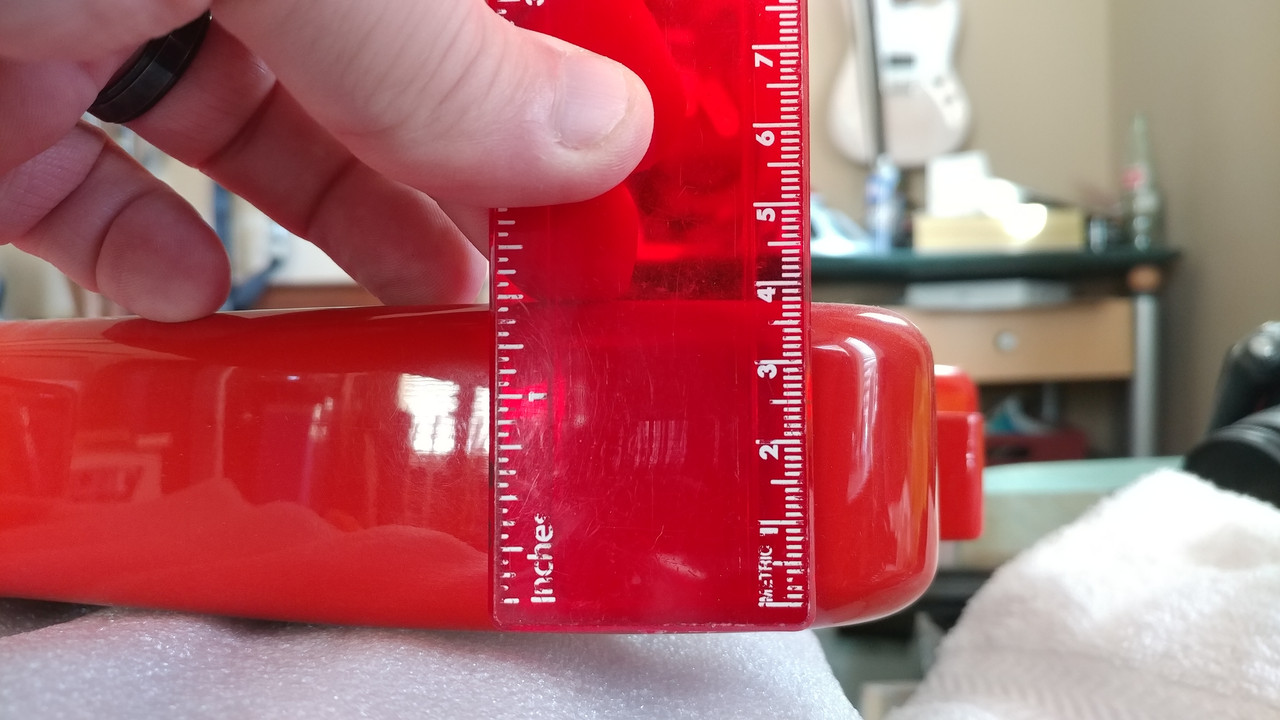 As stated several time in the thread, the very crucial value I needed is the body roundover radius, but having all the others specs would be ideal if we want the highest accuracy.
This is a recap of what I've collected so far based on HNB's pics:
Body thickness: 44mm ish (with fiesta red finish)
Body roundover: Chris measures 1/4" (6.5mm)
Neck pocket depth: it looks like 14mm (not sure I'm reading correctly)
Neck pu depth: 16mm ish
Bridge pu depth: 16mm ish
Switch depth: 30mm ish
Controls depth: 30mm ish
I sent him my readings to double check and avoid any error on my part and he confirmed that they are about right.
His measurement of the body roundover is pretty much compatible, so we're Twice as GOLDEN if somebody else can confirm this value.
Now, speaking about the body thickness:
The prototype has always been described as thick as a telecaster, so keeping that in mind and doing the job already described I've clocked the thickness at 44mm.
Jag-stang.com body thickness reference:
https://www.jag-stang.com/forum/topic/5 ... ment=88817
robert(original)
: "thickness with paint is approx 44mms, without paint probly 40 mms."
Warmoth Jag-stang thickness reference:
1-3/4" Thick Solid Construction
Thickness is 1-3/4" or, for my metric-oriented brain: 44.45 mm
supersonicjazzmaster 1997 sonic blue js is 1.316" or 33.43mm;
supersonicjazzmaster 2002 fiesta red js is 1.335" or 33.90mm.
Being these measurements out of a digital calliper clear readings I have no reason to doubt and it puzzles me quite much to think that they are actually that thin. Or shall we even consider that they might have been built with two different thickness specs?
Re_ the colour of your sonic blue.
Yes, your considerations are correct about the colour differences throughout the body and that's why I've asked for the scan to be taken from an unfaded area, aka: under the pickguard or under the control plate.
The same colour can shift from a hue to another just by the presence -or lack thereof- of the clear coat, natural/artificial fading, undercoat colour and god knows what else. No surprise here, my friend.

What's more surprising is the hack job they did under the pickguard?!?! WTF?! I can't even imagine what the purpose could have been... a tiny killswitch perhaps?

Maybe the previos owner accidentaly engaged it and has been killed by the guitar itself as a sign of mutual appreciation for the crude surgery

supersonicjazzmaster

wrote:

↑

Sun May 19, 2019 4:49 am

Anyway, I need more time to search for a professional color analysis. I am not in town the next week. After this week I will find some time for more research.
Man, seriously... don't worry, take all the time you need, you have already been more than helpful. Thank you loads.

I'm officially calling the Jagstang owners: if you have a digital calliper and want to shout out your measurements of yer guitar: please chime in

P.S.:
It might not be the main object of this thread but I could not pass over your sonic blue pickup configuration... Damn, if you think about it, yours is more coherent to the concept of being a mix of jaguar and mustang than the fiesta red that has no jaguar nor mustang pickup by design

EDIT:
I couldn't wrap my head around the thickness of your jagstang (sorry guys my brain works in metrics and sometimes I get lost during conversions) and I've noticed that the digital display is way over the 40mm notch of the metal ruler... so, unless I'm really that useless with inches and fractions convertions, could it be that the calliper has been zeroed at some point before the actual reading on the bodies? Maybe you had it set up to metrics and switched to inches before the reading and accidentaly zeroed the display. Don't know... I'm probalby wrong so, please disregard this bit if it's the case.
EDIT 2:
Yup, it's definitely just a simple harmless accident.