PAT. # 2.972.923

Posts: 847
Joined: Fri Apr 13, 2007 8:28 am
Location: hollywood, USA
hey i found these pics on flickr.  pretty sure they're serviceman.  anyone know this guitar?
dain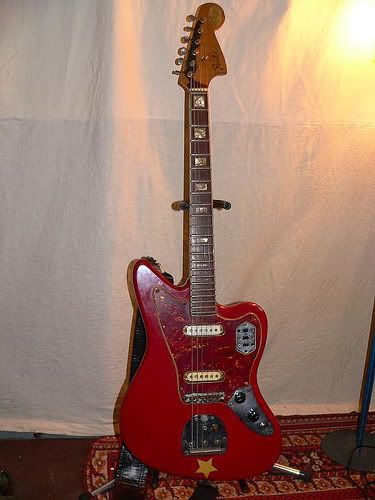 ---
Mods

Posts: 12710
Joined: Tue Sep 12, 2006 4:53 am
Location: In My Room
There was a white one like that on eBay a few years ago... I can tell by the block markers and zero fret. I've never seen a serviceman's like that. We talked about it at the time and pretty much decided it's probably 70s MIJ lawsuit era.

Could be wrong though...
Q. Are we not men?
---
Expat

Posts: 4011
Joined: Tue Sep 26, 2006 5:01 am
Location: Belgium
Contact:
Well the "vietnam" erea servicemen guitars are pretty well known... cheap made copies...but interesting.
Although some even lacked a tussrodd, wrong Pat. Pend No...phony neck plate screws, etc, etc...most were produced in small shops back then.
I never saw a Jag or JM in person, but I did restore a" serviceman's" P-Bass a few years back and the overall quality wast just plain awfull....but it sure was a looker!!!
they are a nice niche in the off-set copy history... but parts are not interchangeble with the real thing or the MIJ/CIJ Fender version.
I always kind of thought about them as fake rolex watches....

Proud "Young Router Jockey" And Rental service for "woodchippers"
---