For your review is a JM in a local shop (very reputable and some amazing pieces move through the shop). At any rate browsing on line I was exicited to see they had got a JM in from somewhere With out reading the description I just clicked on the pics and this is what I found.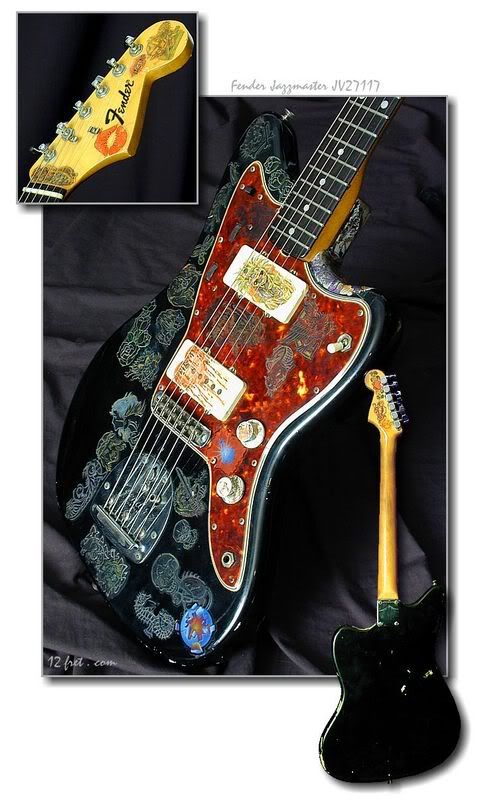 I've also included the description they have (Please note the horror of the planed neck to flatten the radius 
)
•
Serial Number
:... replaced neckplate # JV27117
•
Description
:... Wow,  where do I start?  This is a Jazzmaster with Japanese neck plate,  1959 Jazzmaster electronics and pickups,  replaced peghead decal on a slab-board Brazilian rosewood fingerboard neck that has been planed,  re-dotted, with a fake date on the end of the neck and refinished.  The body is potentially original issue '59 but since it has been refinished,  this is impossible to determine.   The decals & doodles gives this thing a Hell's-Angels-goes-to-the-circus sort of vibe that has some kind of quirky appeal to those of us who have a six string psychosis bigger than all outdoors!
•
Neck
:... replaced tuners;  newer  decal;  refinished;  non orig neck date;  radius has been flattened on fingerboard;  new dots;  refinished;  doodles & decals applied
•
Frets
:...  very little wear;  pro refret
•
Body
:... structurally fine
•
Finish
:... total refinish;  doodles & decals applied
•
Hardware/electronics
:... original 1959 electronics and pickups;  changed tuners,  neck plate,  knobs and switch tip
•
Playability/Action
:... good
•
Case
:... gig bag
I was thinking of popping by to see it in person because if the body and electronics are in fact a 59 the price is not to crazy (but the neck I am quessing the neck might be a throw away. On dating the body I was thinking if it is a 59 it should not have the extra bumps in the control route for the guard (someone please correct me on this!)
Thoughts?