arkivel wrote:

mackerelmint wrote:

DocCarlson wrote:Honestly a black maple '50s Strat is one of the sexiest instruments on the planet. Don't let the deluge of sub-par imitations with Squier decals and shit rosewood (or MEGAN ) distract you from what is the pinnacle of slick understated class in instrument form.

Not with a white pickguard. All black everything with a maple neck looks amazing. The white ruins it. It's not like a tuxedo, it's like white socks with black shoes and highwater pants.

Not to be personal, but I am baffled as to how someone who I assume probably vomits at the sight of Pink Floyd just described David Gilmour's number 1 strat.
Floyd with Sid Barrett I do. Kicking him to the curb was the best thing they ever did. Beyond that, I can mostly take 'em or leave 'em. I do have a quiet obsession with the engineering and arrangement on dark side of the moon, though.
Gilmour's craptastic uglycaster:
What I'm talkin' about: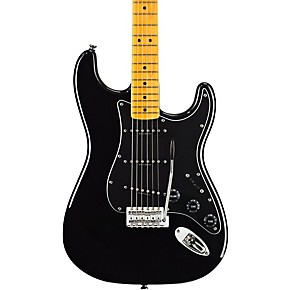 Like I said,
the white ruins it
. There is no place for white plastic anywhere on a strat that isn't blue, as far as I'm concerned.