If you've been following the thread about swapping bodies on my '58 and '59 JMs...  I finished the blonde up today. This Christmas was odd for us, we just got back from a 3 week vacation and the kids had to go back to where they live (they have their own lives now)... so this is the first Christmas without them. Consequently, we didn't really do any celebrating, neither of us have any relatives in the area. It was pretty much just a day off work, which is always good.
So out of boredom, I decided to go ahead and assemble the blonde with all vintage parts. I had to rob the nomaster of the '59 pickups residing within, and also "stole" the bridge. I had a pleasant surprise when I popped the covers off of the pickups that came in the '59, which were said to be aftermarket by the seller I bought them from. One is definitely original, and the other might be. The one that I know is original is identical to the pickups in my Shoreline... including beveled magnets on the bottom and a layer of lacquer over the whole thing. Sadly, though, the windings are a modern bright orange instead of the dark violet/purple of the original formvar, so it probably has been rewound. The other pickup does have the dark windings, but the magnets aren't beveled and there is no lacquer. The bobbin looks right. I don't know what to make of that. I had assumed both pickups were S-D... but now I don't know. The seller was also wrong about the main pots... in my favor. Anyway, The original pickup is 8.74, the other was 7.54 I placed them top to top, and they repelled each other... meaning they are not RP. Regardless, I put them in the nomaster (hotter in the bridge) and strung it back up with the reissue bridge from the '59.
The nomaster sounds good!  However it is noisy in the center position on the main circuit. It took me a few seconds to realize why... then I remembered the pickups are not truly a "set" (RW/RP). I also disliked the bridge immediately. Now I know why people who have only had import offsets bitch about the bridge so much. It's garbage! Even a docile player like me popped the strings over the grooves! I tweaked the hell out the saddles, raising them as far as they would go... it helped, but I plan to build another vintage bridge out of my stash.
Now on to Blondie. I will repeat some pics from the other thread for the sake of continuity: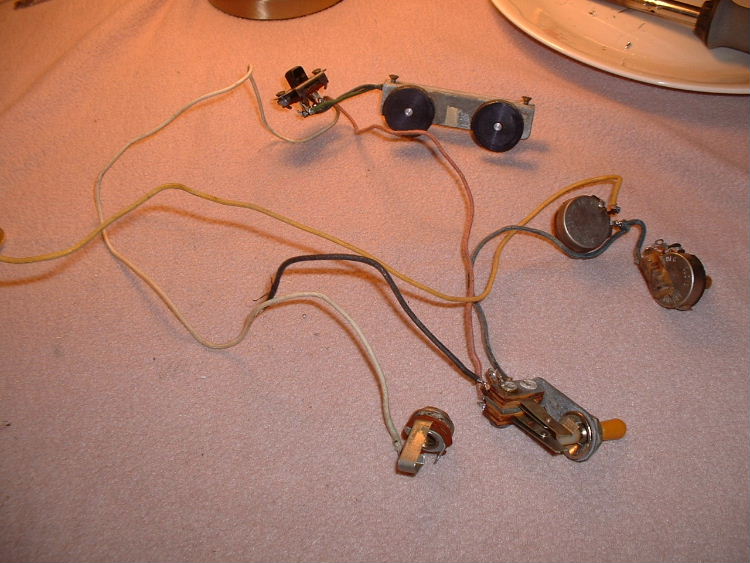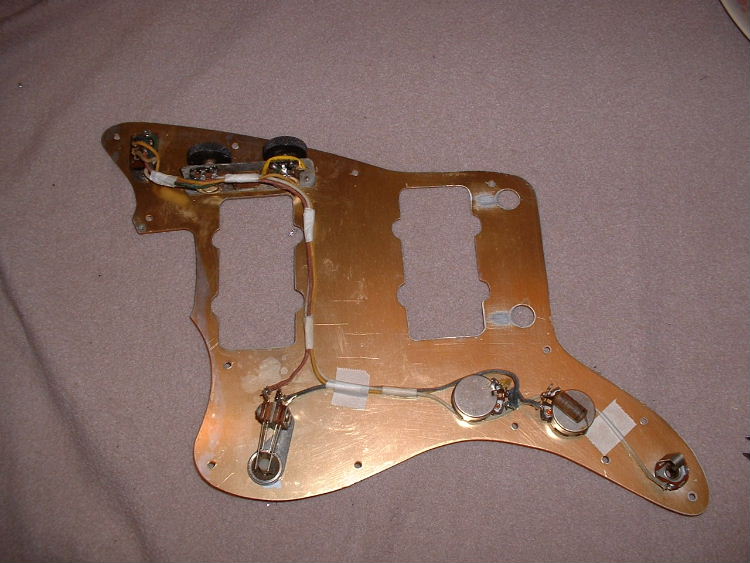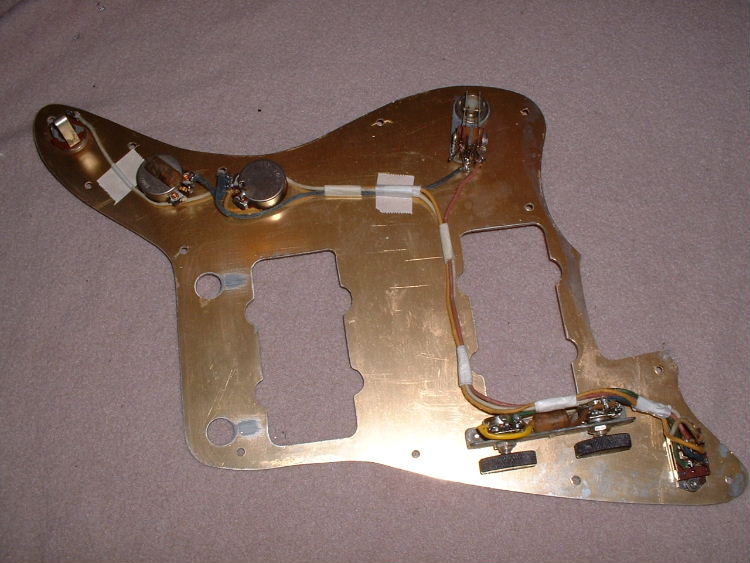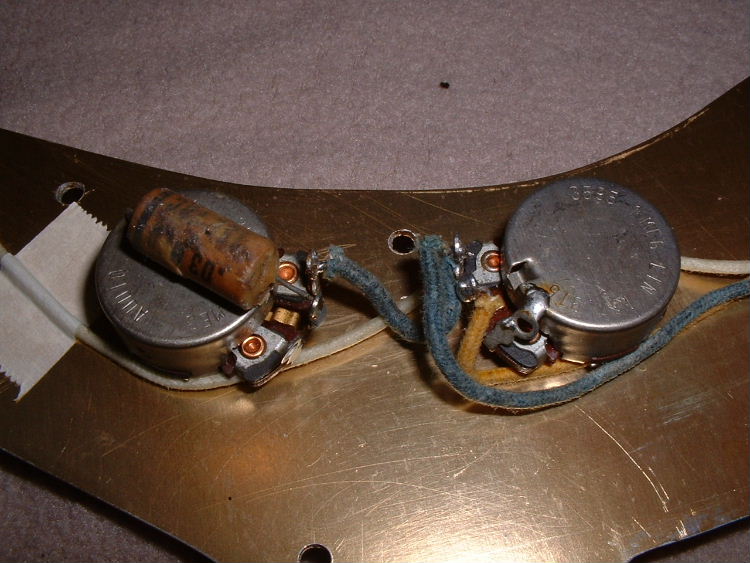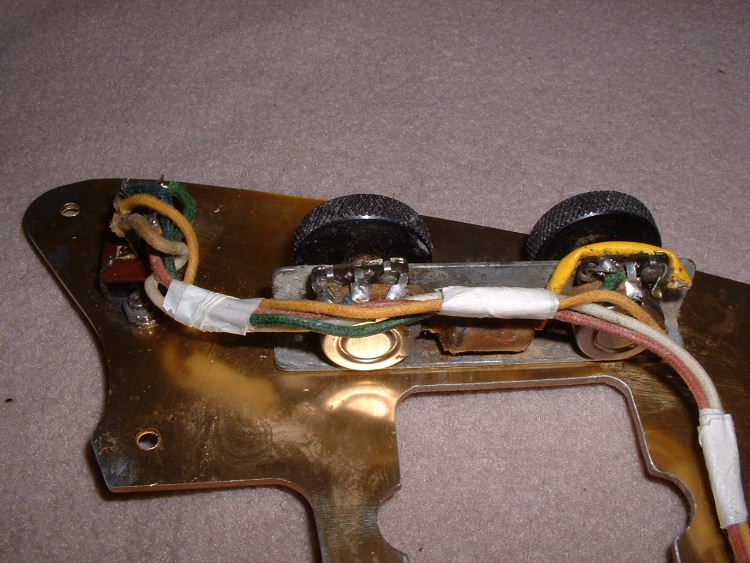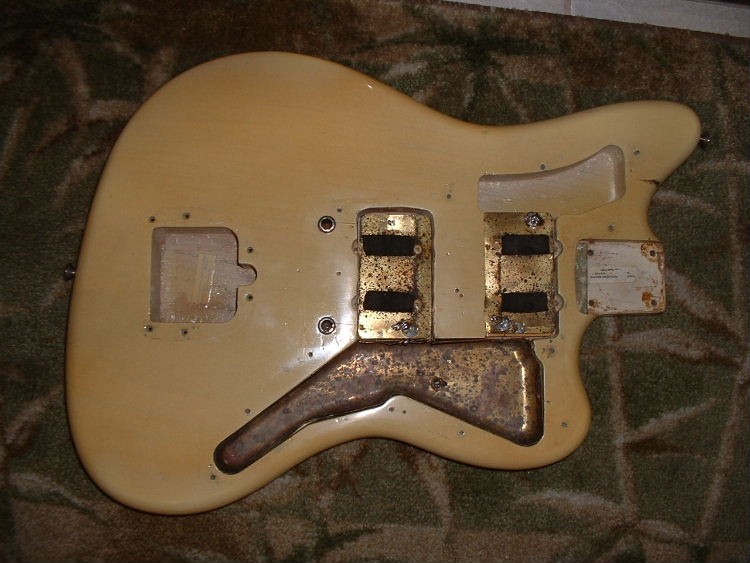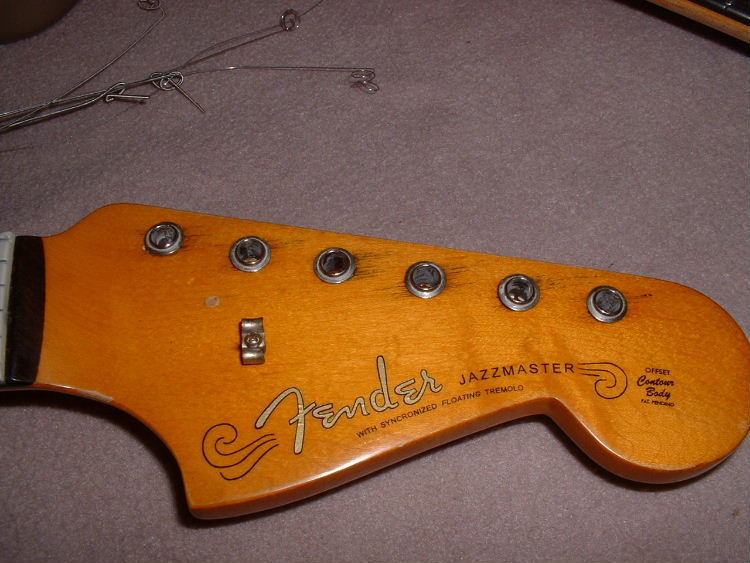 Now we're up to date...
Here's the sweet set of '59 pickups. Bottom: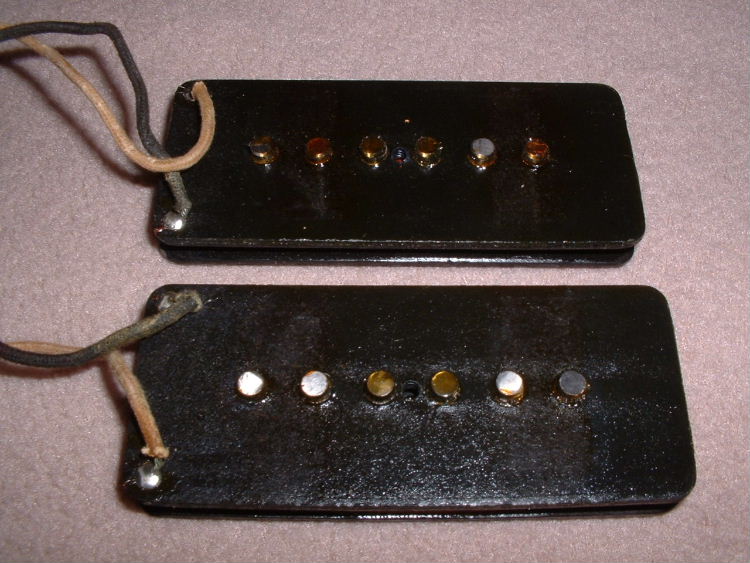 And top: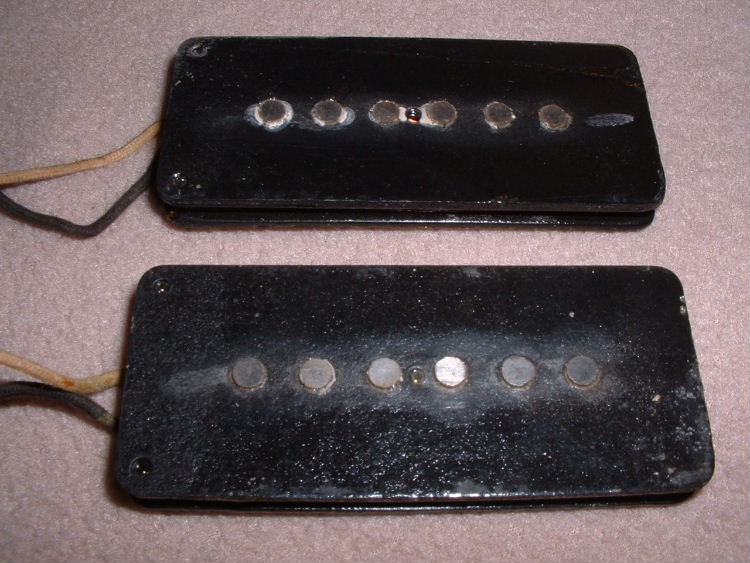 I only had 5 single line Klusons to install. Two of them are a little "ratchety", but they hold tune. After this pic, I worked on reshaping the nut and tinted it yellow. It looks alot better. I didn't snap a pic, but I'll take some outdoor shots tomorrow: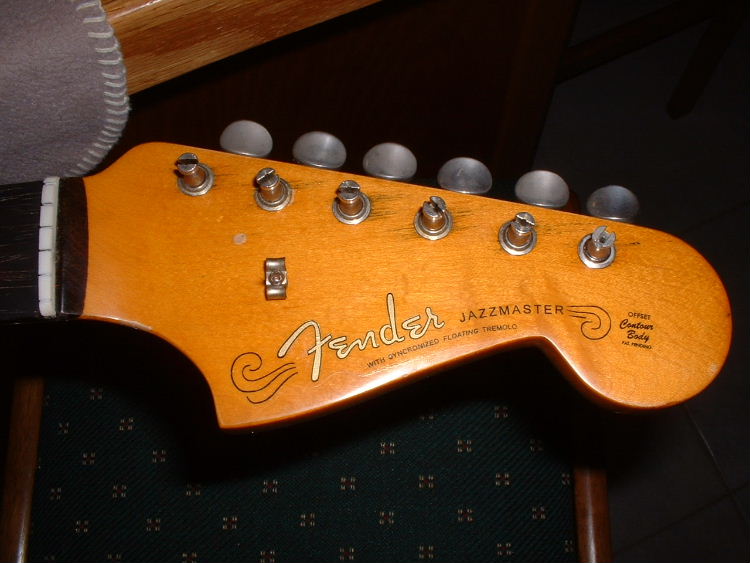 I made a brass shield to replace the one that was donated to the other '59. I secured it with glaziers, which is Fender correct, but not for this year. It's functional though: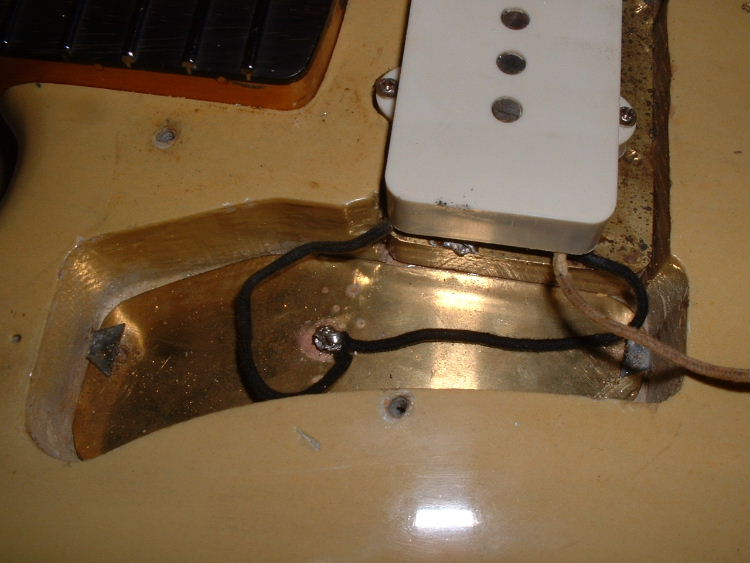 Pickups installed under correct vintage covers: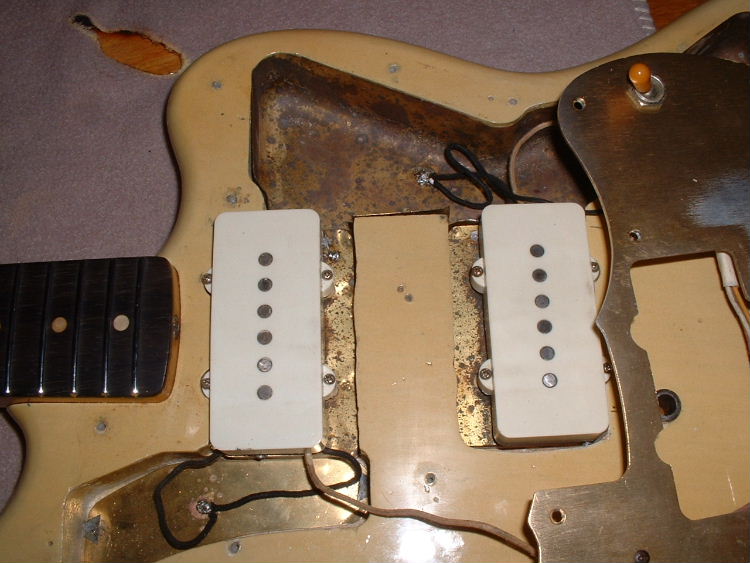 The wired guard: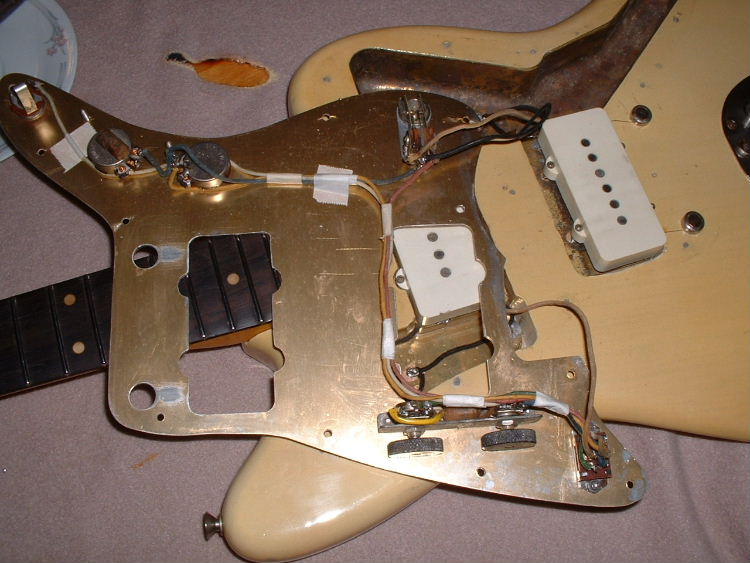 Then I restrung over the vintage bridge and tuned. I glued two pickguard screws into the holes where there was no wood (13 hole guard on a 9 hole body). Kind of cheesy, yeah... but the empty holes were bothering me. Since it's dark, I'll put off the final pics until tomorrow, though I couldn't resist two family shots of the trio of Gold Guards: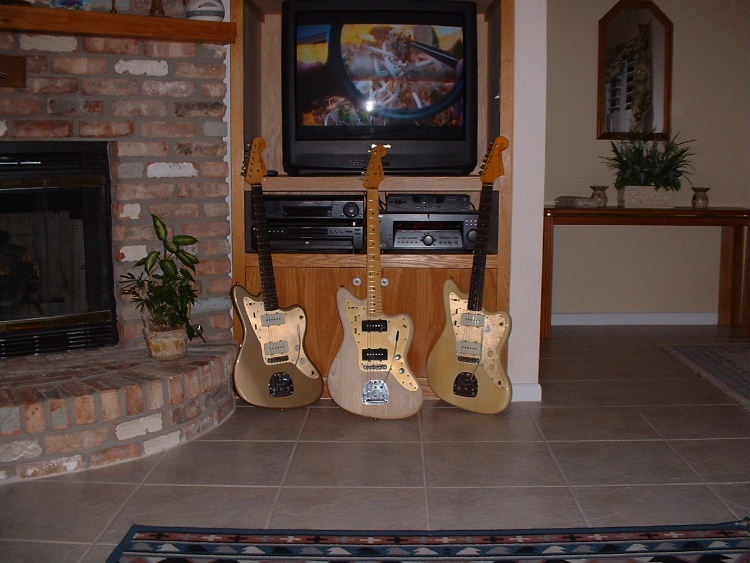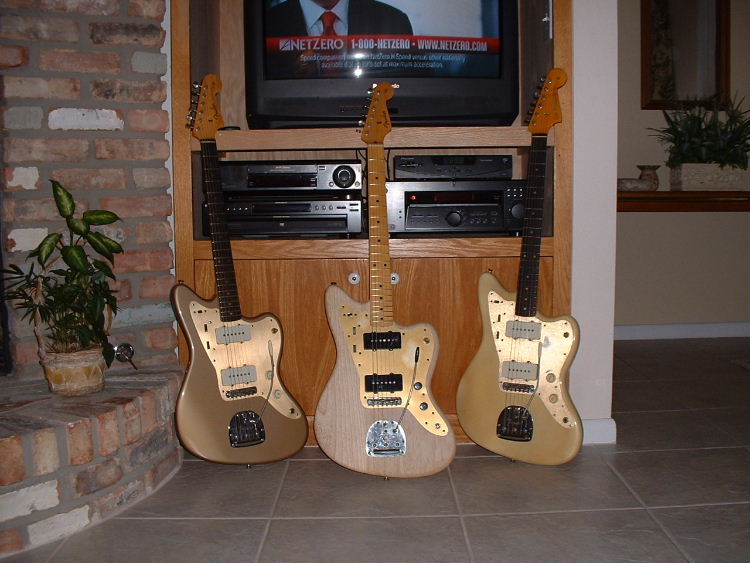 (Ignore the advertisement for NetZero on the TV.... they suck!)