So as I said in my intro post, I got into Mustang's rather coincidentally as I saw a listing for a beat up old Mustang on Craigslist and after seeing the listing for a few weeks decided to drive into the city and pick it up. I figured it would be cool for my kids even if I wasn't a fan. I thought the shape of the Mustang was pretty cool but I never considered buying one at retail price. For $220 though I liked the thought of picking up a vintage guitar that needed love.
The old guy selling the guitar knew nothing about it. He was a junker who cleaned out old houses and sold anything and everything. He thought it was a 1969 as the neck stamp is a 1969 B neck but the neck plate serial number dates to 1970. The guitar was really beat. The original finish was stripped from the body and the headstock although some of the original Competition Blue could be seen in the pickup cavities and the back of the neck still had the original finish. The body had been routed for a humbucker in the bridge and had a poorly cut pickguard. The frets were pitted and green and the headstock had seen at least three different sets of tuners as evidenced by the Swiss cheese holes from the many different mounting screws. The original neck pickup was there as well as the trem, but the bridge was missing. Here is how it looked when I got it home.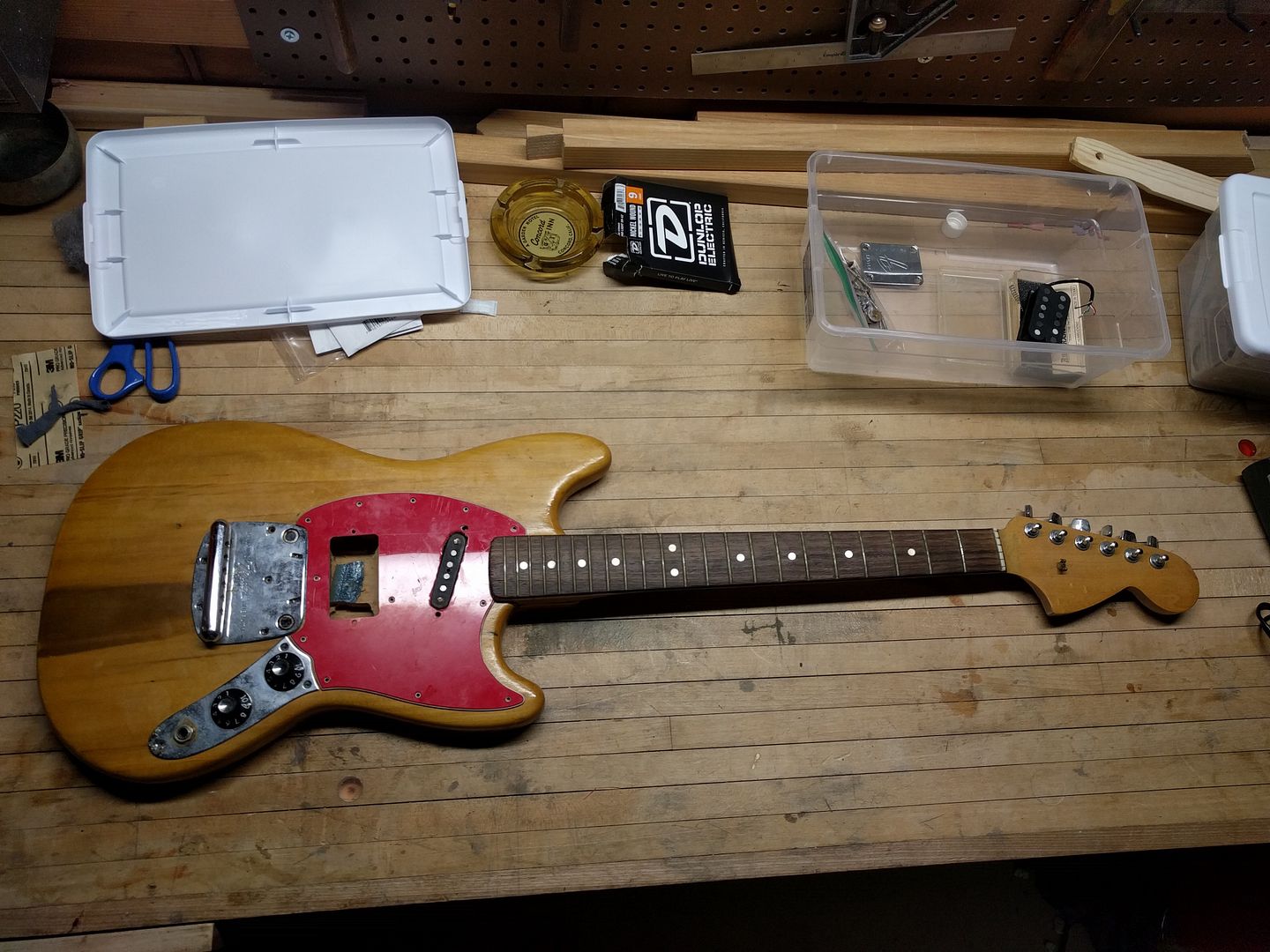 I started mocking up the guitar with a 1970's vintage Bill Lawrence L-90 humbucker and decided that instead of bringing it back to original I'd make it more of a modded 70's rock guitar. I figured it had been modded enough already it wouldn't lose anymore value by further mods, plus there are plenty original condition Competition Mustangs still circulating.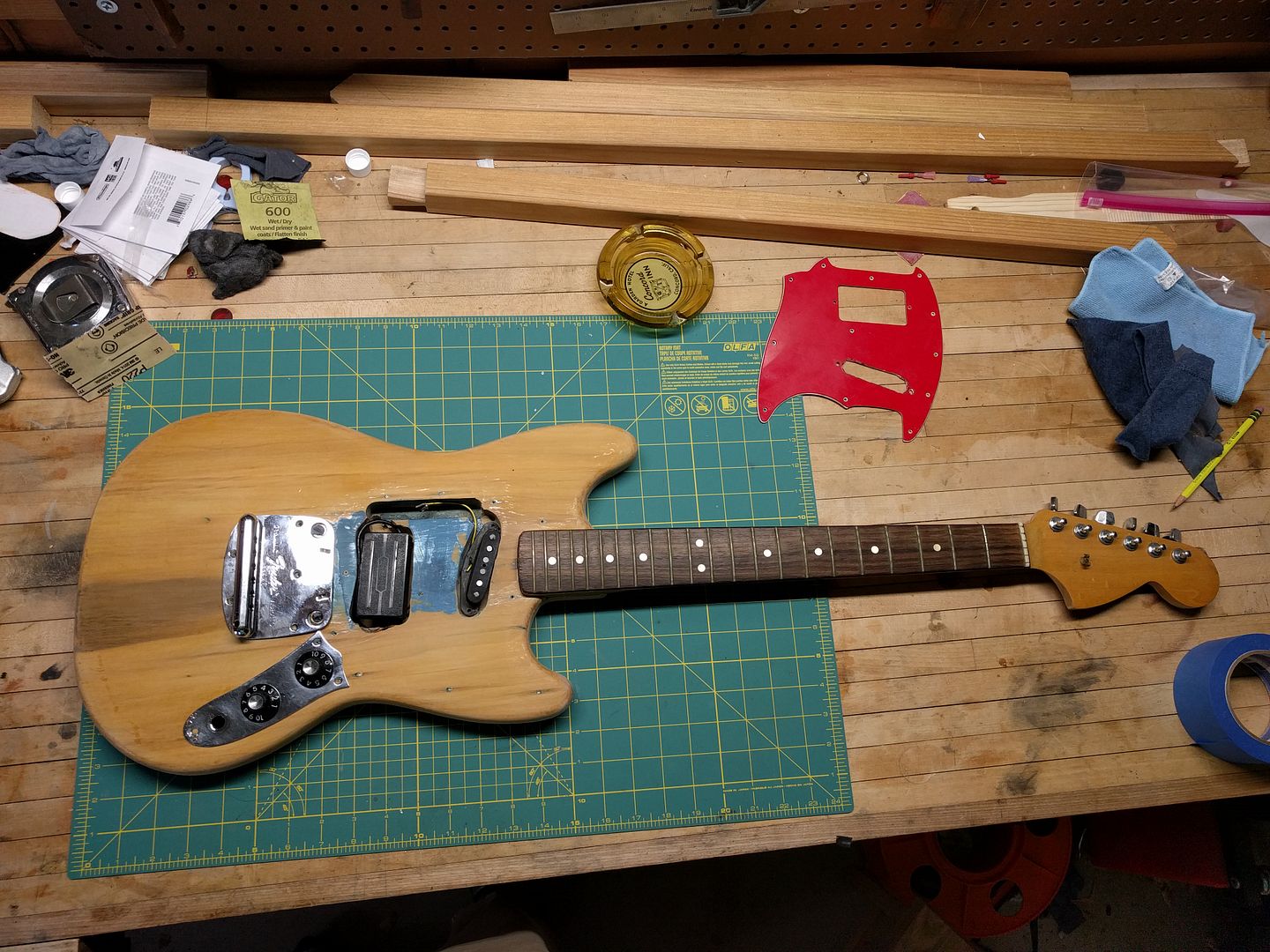 I believe the guitar sat in a moist area for awhile as the controls were completely rusted. The pots and wiring needed replacing and the original switches were long gone so I decided to go with a 3-way toggle switches on the lower horn. I liked the idea of a black body with a black pickguard so I shot it with some Reranch black nitro.
I ordered a replacement pickguard from Warmoth and give it a bit of an aging treatment. I wired in a new volume and tone pot with a Bill Lawrence Q-filter in place of a standard tone control.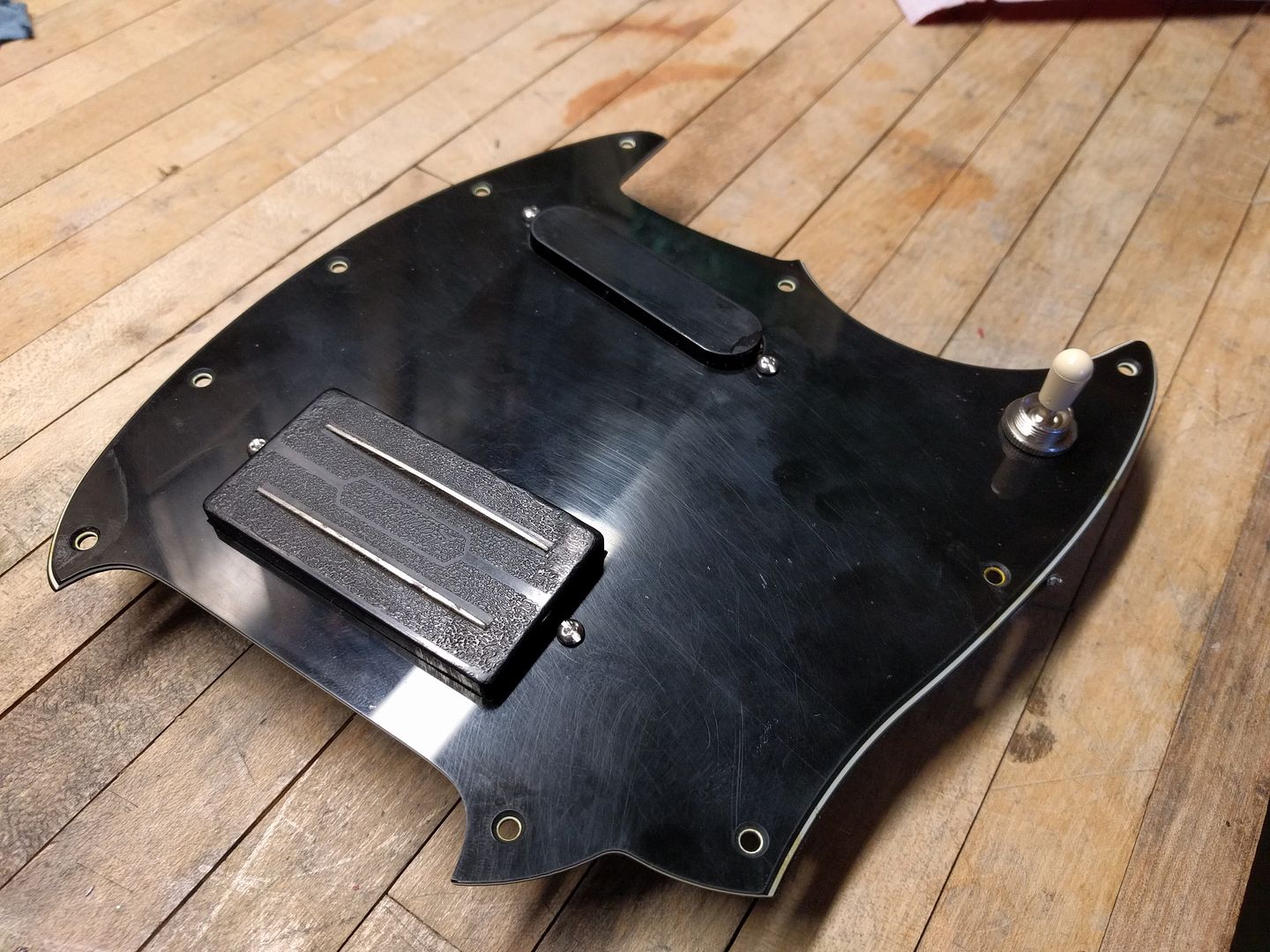 The neck needed a refret so I hammered the frets out sideways (a tip I learned online) and refretted with Stew Mac medium frets, a bit wider than the originals. Also refinished the headstock with a reproduction decal and nitro lacquer. The neck shape is the best part of this guitar. .92" thickness at both the 1st and 12th fret so no taper at all. Combined with the 7.25" fretboard radius and 1 5/8" nut width I've still have yet to find a better feeling neck shape.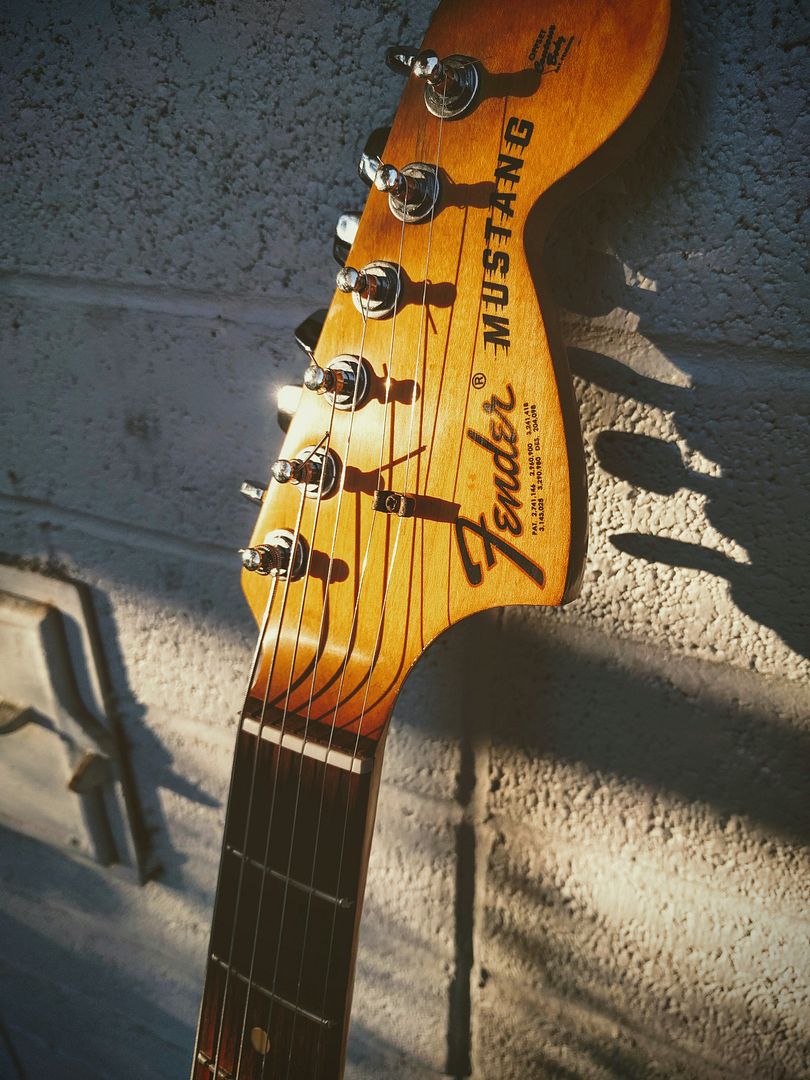 Finished it off with a replacement bridge and black speed knobs. The combination of light weight, short scale length, and perfect neck carve make it a joy to play. The addition of the Bill Lawrence pickups and Q-Filter make it very versatile too.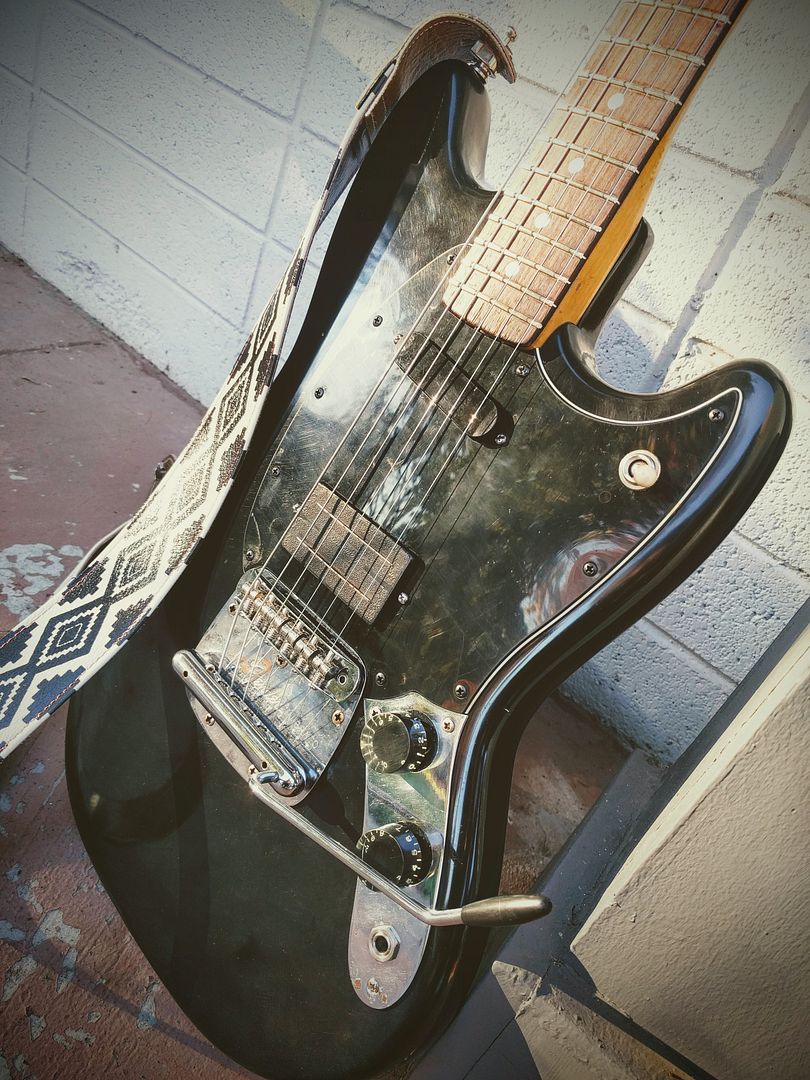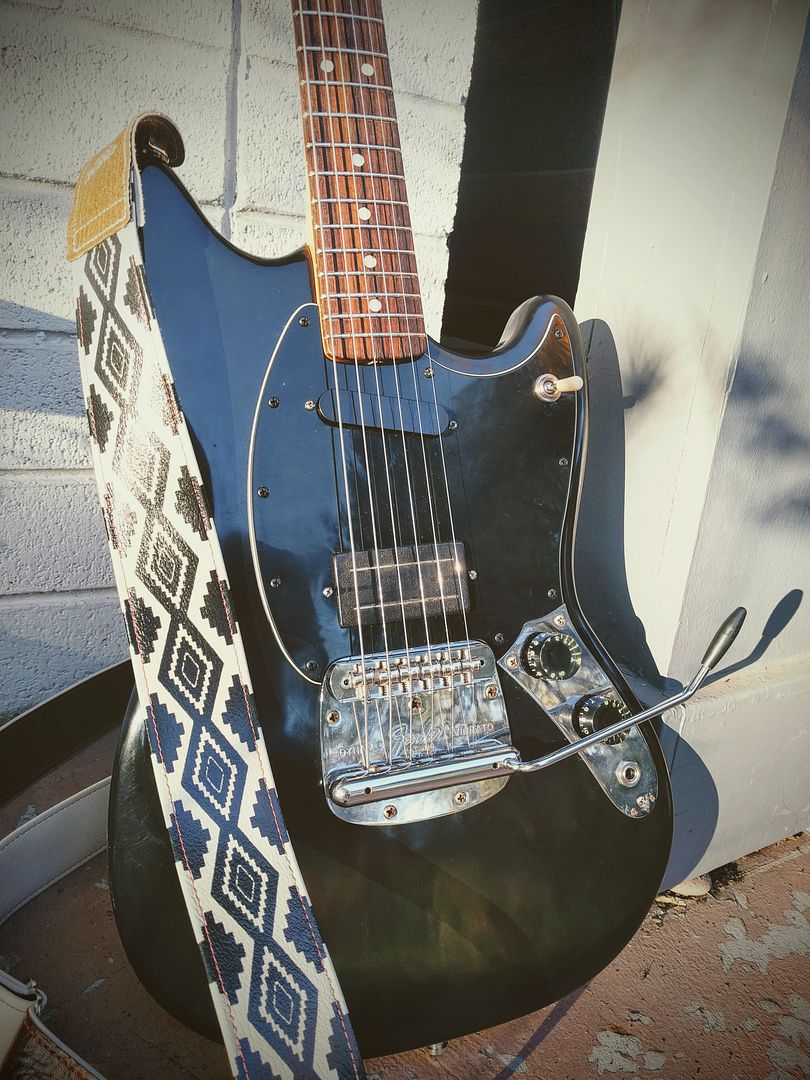 I am now a complete Mustang convert. My Les Paul and Strat are both up for sale and I'm planning on doing a few more Mustang builds including a Maple neck version with vintage Dimarzio Super Distortion/ PAF combo and a Johnny Winter inspired Mustang.