first, a big thanks to Jonas and Andrew for shipping me some parts to get this baby back together!







out with the old, in with the older.
when i got this guitar, it was a little messed up. there was a strat pickup crammed under the neck cover, no rhythm circuit, and needed a setup badly. the good news is everything was original except one pickup, the pots, one strap button, and the pickguard (including the original tweed case!). so, i put in a set of seymour duncan antiquity II's with no rhythm circuit and played it like that for about 6 months.
then, all of a sudden jazzmasters became extremely popular and prices on the parts skyrocketed. i blew it, should have picked up a pickguard and pots last year. oh well.
so, i got the itch to bring this baby back up to full spec, or more like vintage hot-rodded spec. for a daily player, i can't see spending $100 on a volume pot or $500 for pickups, so the antiquity's and replaced master vol/tone pots stayed. but the cheap looking pickguard always bugged me, as well as the fact that i had a pile of correct parts for it sitting in storage.
thanks to the folks at offsetguitars.com, i was able to source some vintage parts for my ax; namely, a complete '61 rhythm circuit and a '61 pickguard. i was amazed at the prices of new rhythm circuit parts, the little wheels and bracket are actually really expensive new so i went for the actual vintage parts for just a little more. the pickguard has had the pickup holes slightly enlarged at some point so it's not perfect but i don't mind... it was a little cheaper this way, and kinda matches the beat up look of the rest of the ax, and you can't really tell from more than a foot away anyway.
here's the way it was; pickguard, switch/switch tip, knobs, and pickup covers are not original, no rhythm circuit:
(sorry for the large pics, photobucket is broken right now)
and in with the older: original switch/tip, original pickup covers with the duncans underneath, original knobs, correct pickguard and installed rhythm circuit: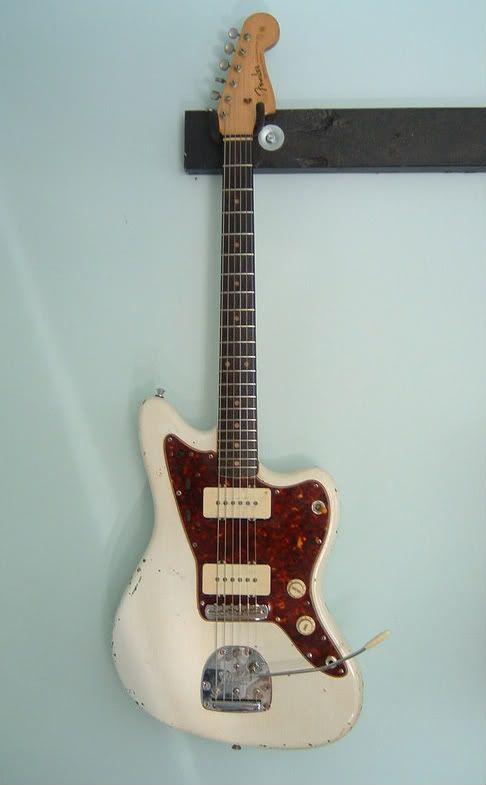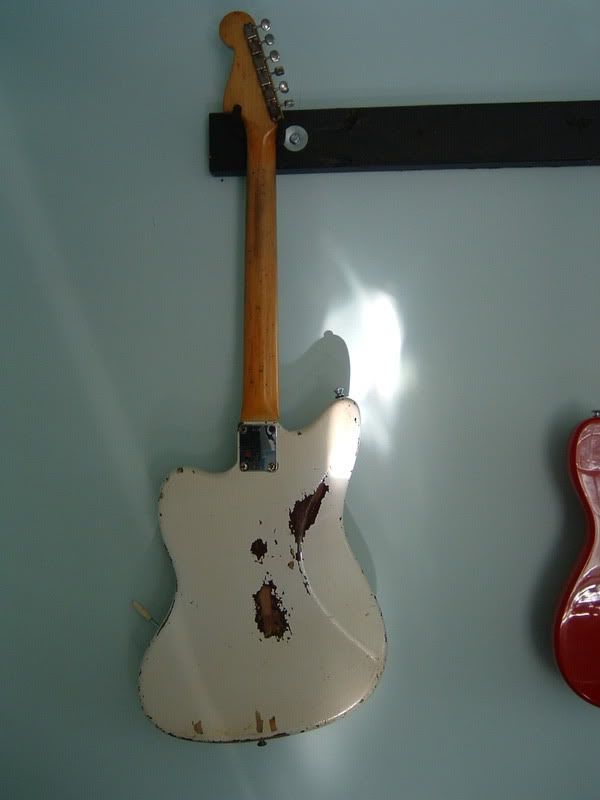 and no, it's not a wall trophy haha... this guitar is my main writing/practicing/recording ax and sees use every day.
did the sound change? actually, yes. the rhythm circuit is cool, but i really don't see myself using it a ton. for some reason, the guitar always sounded best to me in the middle position.  now, it sounds great in all three positions, even bridge only which was very sharp and treble-y before. it shouldn't really sound much different but it does. i did re-seat the pickups and re-adjust the pickup height so that may have something to do with it. also, when restoring it, i put in a TON of sheilding, making sure everything is nice and closed up. it worked perfectly, it's very quiet in the single pup positions and hence is really fun to play without a lot of hum.
thanks again to Jonas and Andrew, and all the good folks here for the info and inspiration!