It's been a long time since I hadn't bought new pedals, probably two years or so... Anyway, I got these two from the mail today, and I'm really excited!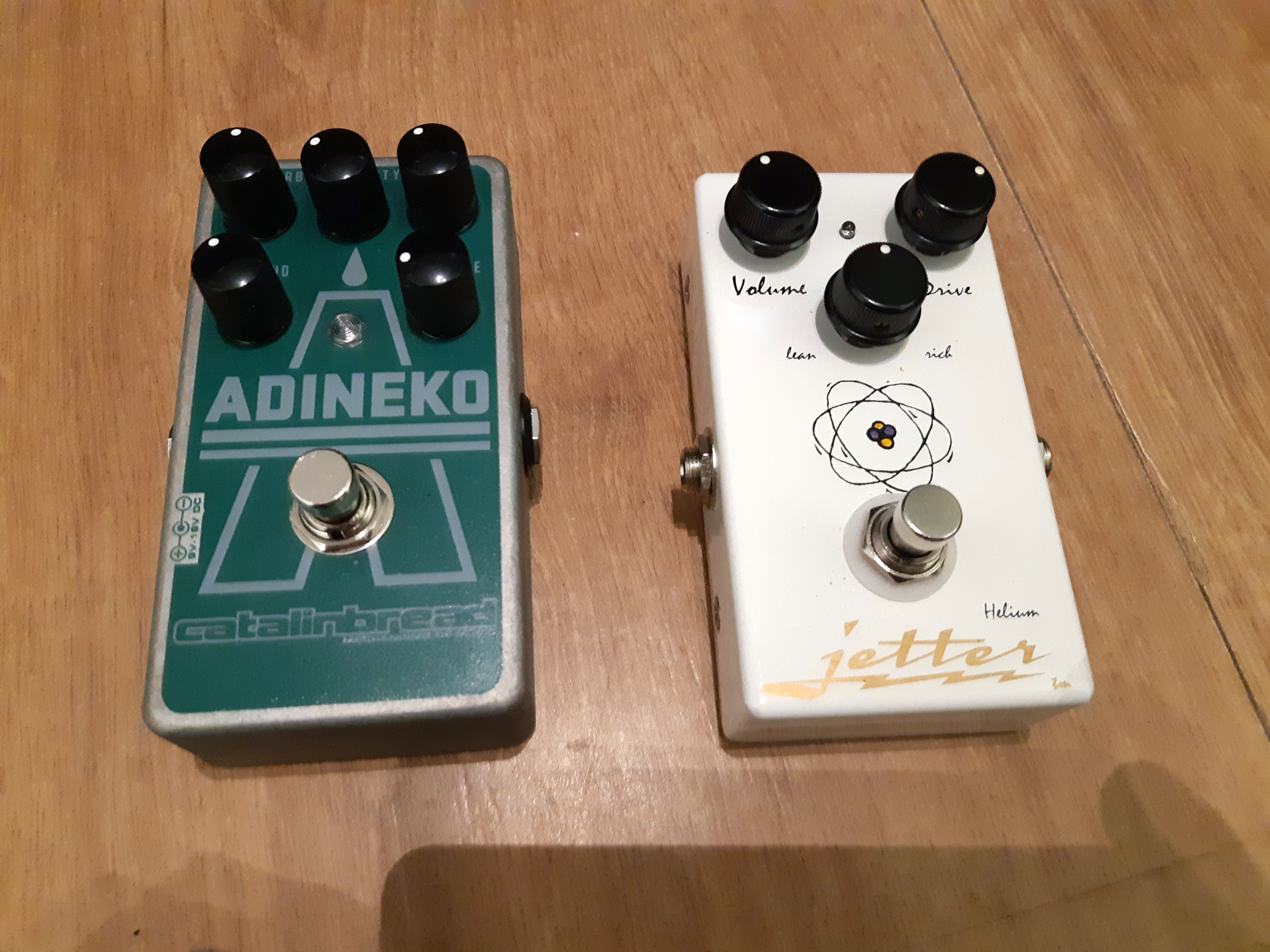 Catalinbread Adineko :
I should state first that I'm not a delay guy. I've owned a few of them, and probably hated all of them with the notable exception of a real Klemt Echolette NG51 tube tape echo, which sounded gorgeous (and had a wonderful tube preamp that sounded better than any dirt pedal I ever used), but was noisy and a PITA for maintenance, so I ended up selling it a couple of months ago (which I regret...)
Anyway, I felt the Adineko was something I might like, so I decided to take a chance on a used one. Needless to say I've never played a real oil can delay, so I'll leave accuracy out of the way. This thing sounds phenomenal, and, believe it or not it reminds me of the Klemt (without the noise and the hassle, but also without the wonderful preamp). Probably because of the possibility to mix two "playback heads" (the balance knob). The Klemt had three heads, but I never used more than two at once. The repeats are somewhat more percussive, which is good. The thing can go from slapback to moderate echo, and sounds good everywhere on the timing knob. It never seems to get mushy, and the repeats are not too proeminent, which was a major issue on almost every other delay pedals I've tried. The modulation ("viscosity") is better used very moderately, unless willing to produce some of the sounds the late Mark Linkous would have incorporated between songs (or sometimes in the middle of a song).
As Howard Gee noted in the Adineko videos, there's something very special happening when setting the reverb knob at the edge of self-oscillation.
By far the most inspiring delay pedal I've ever owned!
Jetter Helium :
I feel the opposite way about low gain drives, can't have enough of them! I had been curious for the Helium for a long time. They're not especially easy to find in Europe, but when they turn up, they're cheap enough. So finally, I found this one, as new.
This is one of the most touch sensitive overdrives I've ever played. Sonically, it's in the tweed territory, but not as fuzzy or loose in the low end as a 5e3, and not as sparkling as a 5f6, and smoother. Not a mid humped overdrive, not really the sound you get from the so called "transparent' overdrives either (it's warmer). It really does its own thing, but it's a great one, and there doesn't seem to be a bad sound in it. I read they're great for stacking too, but I haven't tried yet.
The pots taper seems perfect, very progressive during all their course, so it's really easy to set up. It's also one of the most "built like a tank" pedal I've ever had in my hand. Probably twice the weight of the Adineko, and everything feels really solid.
Now, put the Adineko after the Jetter, and it is instant Jim Jarmusch's Dead man OST by Neil Young, nice! I will try with a tremolo on top of that, should be great!